Barnstormers Ball
DateSeptember 12, 2015
Starts06:00 pm
Ends10:30 pm
VenueOwl's Head Transportation Museum
Location117 Museum Street Owls Head, ME 04854
StatusTickets available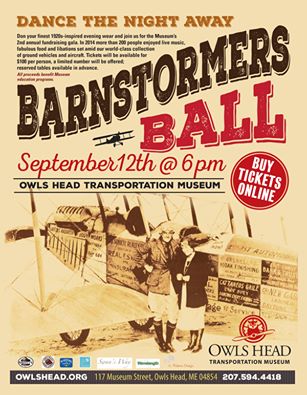 We are delighted to be providing the entertainment at this year's Barnstormers Ball for the Museum's evening fundraising gala. We hope you can join us for a night of music, fine food and festivities inspired by the roaring '20s and set amongst the Museum's stunning collection of ground vehicles and aircraft.
Don your finest 1920s-inspired evening wear and dance the night away with us at the Owl's Head Transportation Museum!
Several raffles will be offered throughout the evening and raffle tickets will be offered exclusively to Barnstormers Ball guests for purchase on site during the evening of the event only. This is an event you don't want to miss. All proceeds benefit the museum education programs.
Tickets will be available in advance and at the door. Purchase tickets on-line at Owls' Head Transportation Museum or by calling the museum (207) 594-4418. We look forward to seeing you there! Let's dance the night away!