Live in the Vines
DateJuly 28, 2018
Starts4:00pm
Ends9:00pm
VenueCellardoor Winery
Location367 Youngtown Rd. Lincolnville, ME 04849
StatusCheck Availability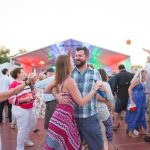 Join Wavelength at Cellardoor Winery for a World Fair inspired afternoon in the Vineyard and enjoy carnival games, live music, local foods, brews and of course, Cellardoor wine. This year's musical acts include us (Maine's very own party band, Wavelength); singer-songwriter Judith Hill; Jamaican-American reggae singer-songwriter Anita Antoinette; and Grammy winner, Aaron Neville. Be sure to commemorate the day in our favorite photo booth, the Maine Photo Camper!
For ticket information and more on the event, visit Cellardoor Winery.
Wavelength will be the opening band so make sure you arrive early! If you have questions about the event or wish to inquire about tickets, call Johnna at 207-883-0893 or Contact Us.