Strive 20th Anniversary Gala
DateJanuary 25, 2020
Starts5:00pm
Ends10:00pm
VenuePortland Sheraton at Sable Oaks
Location200 Sable Oaks Dr. South Portland, Maine 04106
StatusTickets Available
Looking for something fun to do in January and make a difference in your community too? Join us at the Strive 20th Anniversary Gala! Wavelength is proud to be the entertainment sponsor for the upcoming celebration of Strive. Strive is celebrating their 20th Anniversary on January 25, 2020 at the Portland Sheraton at Sable Oaks and we invite friends of the band to attend. Not only will you have a great time on the dance floor but you'll be helping a non-profit organization with their fundraising efforts. Grab your tickets and come party with us at the Strive 20th Anniversary Gala! Tickets are $40 per person, $10 for STRIVE members and alumni. For more information about Strive, sponsorship opportunities and to purchase tickets for the gala, please go here.
If you have any questions about the event, reach out to STRIVE Program Manager, Whitney Wildes at 207-774-6278, or contact us.
UPDATE: Time is running out- have you purchased your tickets yet?! There will be a very limited amount of tickets available at the door- so please purchase yours now!
Strive has some exciting things to share! Strive has announced that former Boston Red Sox player, Chris Howard, will be giving the keynote address! And don't forget, the entire night will be emceed by our friends from News Center Maine, Shannon Moss & Lee Goldberg. They will also be having a fun photo booth from Giffyme, magic from magician Phil Smith, a live painting from artist Joanna House, great raffle prizes, and other STRIVE fun! We're also SO excited to have music from Wavelength Band at the end of the evening! Remember, Tuxedos on Broadway is giving us a great opportunity for this event! We can't wait to celebrate with you on the 25th!
Special Events Band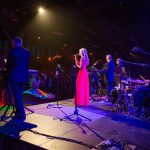 Make your next event a big hit with professional entertainment and quality service by choosing Wavelength. We believe music sets the tone for a successful gala and we want you and your attendees to have the time of your life. You want people leaving your special event saying, "we had the best time!" and a great band will make that happen. Turn a milestone anniversary party, awards banquet, or special celebration into an extraordinarily memorable event with musical entertainment and dancing. Guests will participate more and stay longer when a fundraiser is a full evening of enjoyment, and a live band provides that feature. Wavelength brings great music, all the right dance songs, and engaging talent to every private affair, and our professional experience allows us to help you keep your program on track, and your guest interested and on their feet! Let us complete your next special event!