Book the band that moves you!
"They were kind, professional, fun, generous, excited and blew the roof off!" ~ Emica and Chris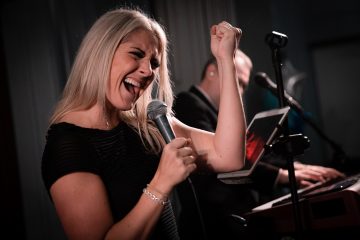 Lindsay Hamilton – Vocals/Emcee
Gifted with a strong, rich, and soulful voice, this Maine native can move audiences with her energetic and passionate performance. Lindsay has been singing in various ensembles since the age of 12. She spent two summers at the Boston University Tanglewood Institute and graduated from Walnut Hill School for the performing arts. She then went on to complete a degree in Music Performance at McGill University. Since college, Lindsay has been performing up and down the east coast as well as fronting event bands in Maine. Lindsay has performed at Alice Tully Hall, Carnegie Hall, the Montreal Jazz Festival and in 2012, she sang nightly at the Pudong Shangri-la Hotel in Shanghai followed by an international tour as resident vocalist at one of the top hotels in Hong Kong before returning to Maine. She is passionate about interacting with the crowd and creating an unforgettable experience for every Wavelength event.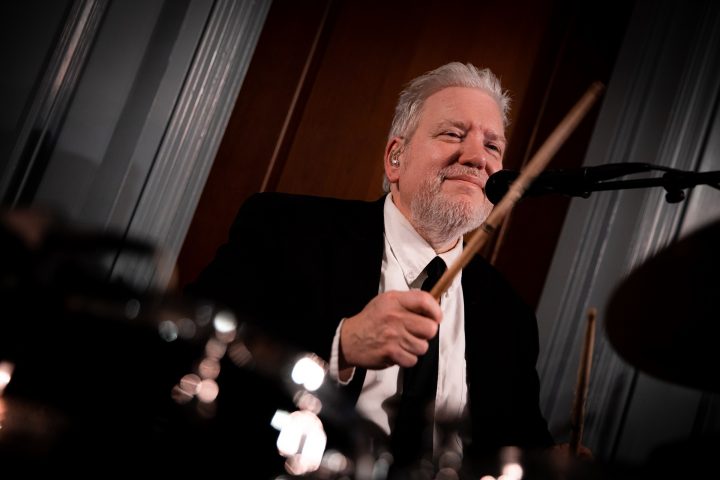 Al Gingrich – Drums/Vocals
Al got his start in Jazz in public school outside Harrisburg, PA and studied with some excellent mentors along the way. He's had the opportunity to play just about every genre of music there is, from Dixieland to Punk Rock, and is having the time of his life performing. By far the most generous thing a parent can do is allow their fourth grader to take up the drums. So a big thank you to Al's mom and pop because without that opportunity, he would not be having such a blast in the Wavelength band! One of the most enjoyable things for Al is sharing the lead vocals. Some of his very favorite songs are The Righteous Brothers' Unchained Melody and Peter Gabriel's Sledgehammer. "I have always had a passion to entertain and getting to do it with some of the greatest friends I have ever had the pleasure to work beside is more than I could ever have imagined. I look forward to being a part of your big event!"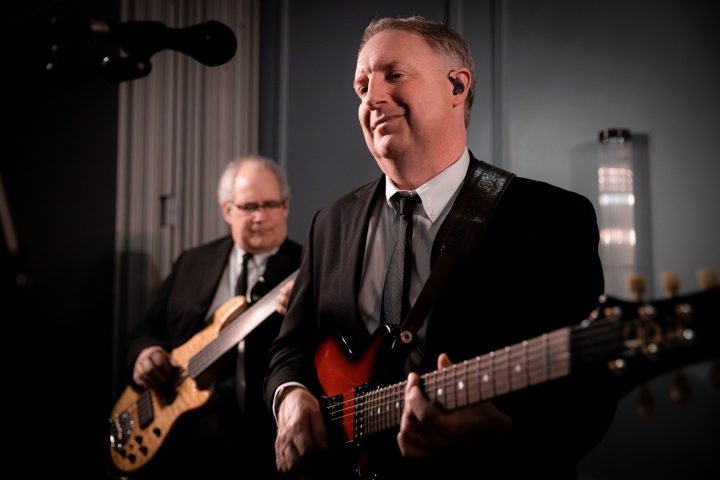 Paul French – Lead Guitar/Vocals
Paul began playing the guitar in elementary school, with his first lesson taught to him by his grandfather. He formed his first band with friends in the sixth grade. After taking private lessons, and playing in bands through middle and high school, Paul studied music in college at University of Maine Augusta, North Texas State, and eventually earned a bachelor's degree from Berklee College of Music in Boston. As a private guitar instructor, Paul has taught over 35,000 guitar lessons and teaches from his home studio in Portland, ME. Previous to playing in Wavelength, Paul was singer/songwriter/guitarist for many original bands, with his songs receiving commercial airplay and being placed in film soundtracks. Since 1998, Paul has been a member of Wavelength, enjoying entertaining and performing with the band and solo at wedding receptions, ceremonies and private events of all types.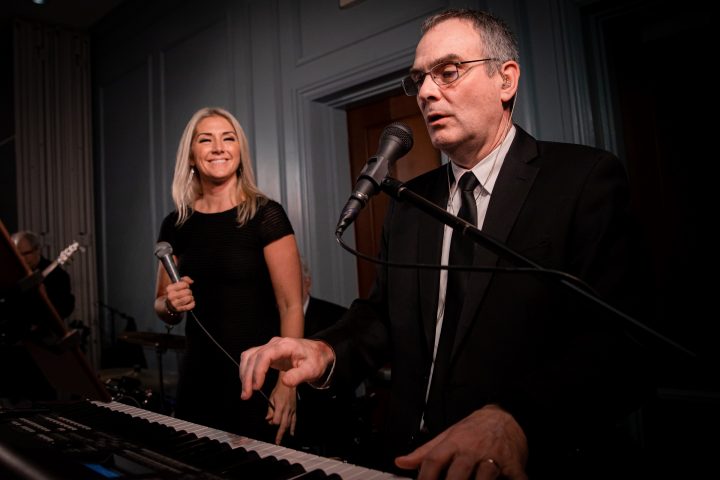 Paul Dionne – Keyboards/Vocals
Paul's debut on the music goes all the way back to when he started playing keyboard in bands when he was a freshman in high school. From high school dances, musical productions and the night club scene, to the opening of the Cumberland County Civic Center. He kept busy performing contemporary music for a number of years in the Portland, Maine area. During this time, he began to study Jazz under Alex Johns and broadened his repertoire to include many classic Jazz standards and more challenging pop songs. Paul has played just about every genre of music there is throughout the past 40 plus years. He loves to use his training and ear to chart new songs for Wavelength. He also facilitates the band's recording needs in his home studio. "I always try to bring my best to each gig knowing that this is someone's special event."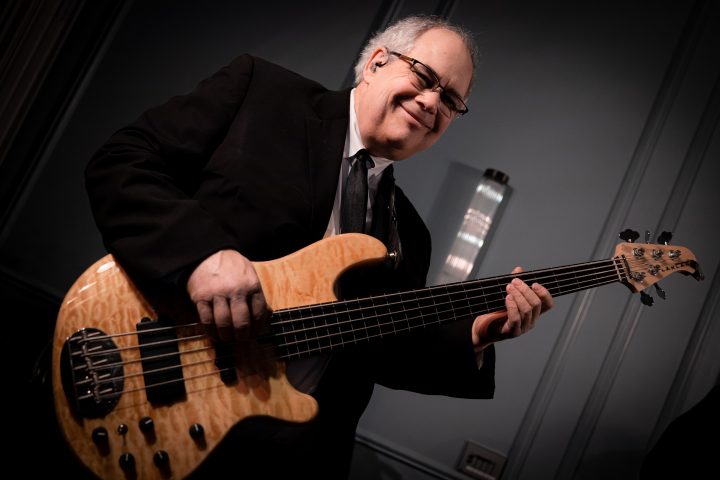 Garth Adams – Bass Guitar /Vocals
Garth has been playing bass guitar for many years and has a wide variety of musical interests, including Blues, Disco, Country and original Rock and Roll. He has been a member of at least one band since he was 15 years old. He has had the pleasure of opening for and meeting Dolly Parton, NRBQ, John Lee Hooker, Vassar Clements and Sleepy LeBeef to name a few. He enjoys being able to travel thru his beloved state of Maine and play music in many wonderful and varied venues. One of his favorite things about playing with Wavelength is that they are like family, they truly enjoy what they're doing and keeping things fresh and fun. He really likes the fact that everyone in the band is professional and flexible and can accommodate just about any request, and recalls a time where they learned a song during their break to play for the mother of the bride. In his spare time he enjoys collecting vinyl records.
Johnna Dionne – Manager
Johnna is the manager and contact person for Wavelength. She manages the business side and every musical detail for all of the band's weddings and special events. She works closely with Wavelength's clients to coordinate timely details, song selections and special requests to provide personalized attention to every Wavelength performance. With a business degree and a love for live music and event planning, this is her dream job. Johnna brings her marketing background, event planning and customer service experience to the band from her work in the corporate field. Prior to joining Wavelength, Johnna was a Customer Service Representative and Marketing Coordinator traveling throughout the US and abroad. "I love to work with people and help make a vision become a reality."
Wavelength has built their reputation on providing an outstanding musical experience for each and every event they play. Sample a variety of Wavelength's recordings here.