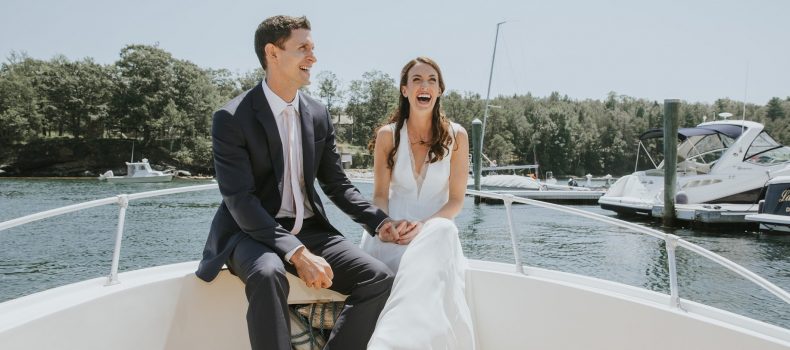 Maine Great Diamond Island Wedding
Peter and Jenna's island wedding took on a surprising twist at the beginning of their incredibly fun day when the skies opened up right before the ceremony. Everyone arrived via boat to Great Diamond Island on a gorgeous summer day and prepared for their beautiful ceremony at Diamond Cove at then the rain came. The wedding party and guests moved under the tent and embraced the moment with an early cocktail hour before the sun came back out for Peter and Jenna's seaside ceremony. It set the tone for one memorable wedding that we won't soon forget. The day was authentic, laid-back, full of family, love and dance, and one flower girl's exceptional musical performance.
For the ceremony music, Paul played guitar which included Marry Me for the bridesmaids processional, My Girl  for Jenna's processional with her Dad and something celebratory and fun for the recessional, Signed Sealed Delivered. The reception began with with Peter and Jenna's first dance, Harvest Moon. Peter and his mom danced to What A Wonderful World first and the dance party began following the father/daughter dance, Wagon Wheel. They wanted fun and modern party songs over the course of the night with some of her mom's favorites added in from Old Time Rock And Roll to Brown Eyed Girl and Respect. We added Party In The USA by Miley Cyrus for them, played Uptown Funk as it was Jenna's favorite wedding song and Peter's favorite, Purple Rain by Prince closed out the night. The highlight, Jenna's niece and flower girl sang Can't Stop The Feeling by Justin Timberlake with the band. It was a show stopper, she was incredible!
Great Diamond Island was such a great choice for Peter and Jenna's wedding and we're glad that they brought us along. Peter grew up in Maine and now that the couple live in Boston, and family nearby, it was perfect timing to hop on Wavelength's music cruise last summer to hear the band play. It was the Bay Mist, the same vessel the couple booked for their after-party.  We started planning for this day on the music cruise and were happy to hop back on the boat this July to celebrate with them! It was one for the books! Thank you to Rachel from Diamond's Edge Restaurant and Marina and Caity at Casco Bay Lines for coordinating the logistics with us! It went so smooth!
Jessica and Lyle from Fidelio Photography captured our fun-loving couple through their amazing photography to tell the story of this wonderful wedding. We are grateful for the images and excited to share with you below.