Meet Our Couple: Maura + Dan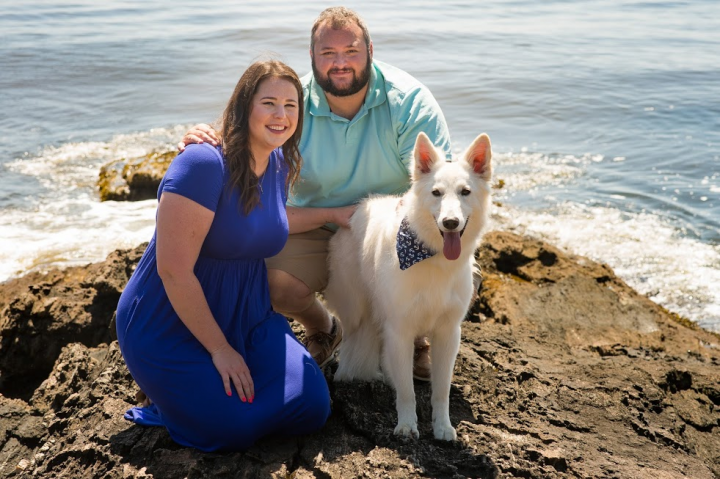 Starting off the new year with another one of Meet Our Couple series. Meet Maura and Dan, and their precious baby Sadie! We spoke to Maura and Dan recently on the phone to talk about their music selections for their upcoming spring wedding. Maura and Dan will be getting married in May at the Nonantum Resort in Kennebunkport. Excited for this Spring 2020 wedding! Maura and Dan were kind enough to share more about their love story and wedding plans with us. In addition, a photo from their engagement session with Jen from Freestyle Weddings with their Swiss Shepherd-Sadie. It's getting real!
How did you meet?
We met on Match BUT only because Dan's dear friend Laurie decided it was time! Dan, Laurie and a few friends were all hanging out one weekend and decided it was crazy that an amazing catch like Dan was still on the market. They snapped his picture and unbeknownst to him created a profile, picked me out, and messaged me. Dan saw my response the next morning and decided this online dating thing may actually work. We went out a few days later and the rest is history! Laurie and her husband remain our dear friends and are of course invited to the wedding in May – thanks girl!!!
What is the best part about being engaged? How did you decide where to get married?
The best part about being engaged is planning the wedding together! We have made every single tiny decision together and it has been so much fun- we have loved finding out what a great team we make.

We knew from the very beginning when Dan proposed on the rocks by the water at his parent's home in Phippsburg Maine (pictured above!) that we wanted to married on the coast of Maine. We visited lots of venues but as soon as we arrived at the Nonantum Resort we knew it was the perfect place for us.
What are you most excited about? What is your wedding style?
Dan and I are most excited to celebrate with all of our family and friends and share with them the most special moment of our lives.
I would describe our wedding style as traditional and classic with a touch of nautical whimsy.
How did you chose your wedding entertainment?
We chose Wavelength as our wedding entertainment on the recommendation of the local trusted vendors we loved, most especially by our wonderful photographer Jen Smith of Freestyle Weddings.
Do you have honeymoon plans?
Our honeymoon plan is 2 weeks on the ocean in Costa Rica bookended by a few days at our favorite place in the world- Phippsburg Maine.
To our 2020 couples, thank you for choosing us to play for your special wedding day. We can't wait to work with you! If you know of anyone recently engaged, let them know that we specialize in weddings!