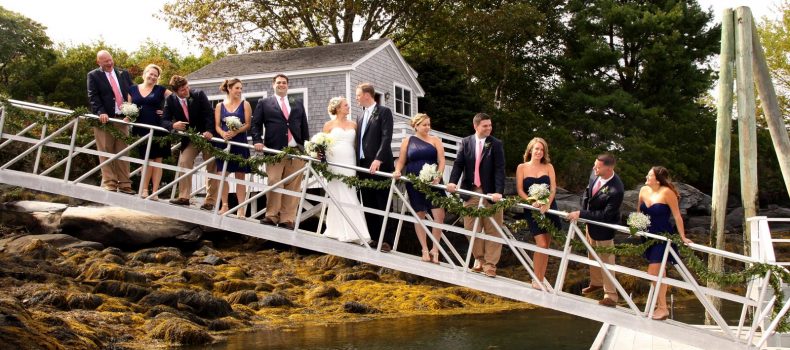 Cabbage Island Wedding
Lindsay and Scott were married on an island in Maine. How cool is that?! Lindsay's family owns and operates Cabbage Island Clambakes in Linekin Bay right outside Boothbay Harbor so when the season was over, they hosted a fantastic wedding on the island. We were thrilled to share in this island wedding experience with such a wonderful couple and their family. September can be such a beautiful time in Maine but on this day, temps dropped and the wind picked up which called for a backup plan for the band boat. We loaded our equipment on the Bennie Alice at Pier 6 and made our journey to the island with the guests.
A super fun wedding reception took place in the tent following Lindsay and Scott's beautiful ceremony. They chose "Into The Mystic: for their first dance and "Stand By Me" for their combination parent dance. We sang and danced for hours until it was time to pack up and head for Boothbay Harbor. We all headed back on the Bennie Alice together and had a blast. It was a little rough in the bay that day but absolutely fun and memorable. Thank you for including us in your special day!
Our team of vendors for the day included day-of planner Sally Bullard, Stone Cove Catering, and photographer, Leisha MacDougall. Lindsay was kind enough to share some of her images from her wedding preview. Island photos were taken by the band.
" We loved having Wavelength at our wedding. They were absolutely amazing and one of the best parts of our reception. Everyone is still talking about how they were so great. They are like no "wedding band" I've ever heard – these people are truly musicians and rocked out all night long. I would HIGHLY recommend this band to anyone!!"