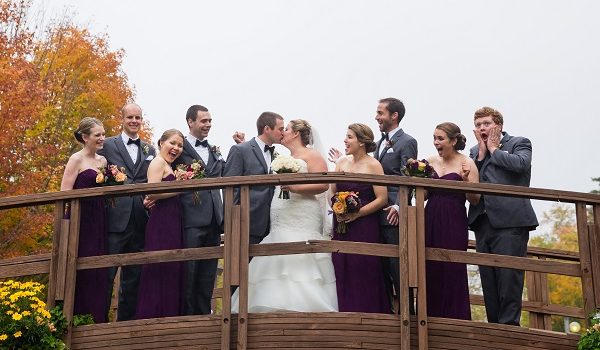 Fall Wedding At Sugarloaf
Who doesn't fall in love with autumn in Maine? We were so excited to be a part of Kelsie and Rob's romantic Sugarloaf wedding in October and enjoy the magnificent foliage and wonders of this Western Maine mountain. After meeting with high school sweethearts Kelsie and Rob, we can understand why they choose Sugarloaf as their wedding spot. Sugarloaf was just amazing. We loved working with Julia and can't wait to go back!
Despite the rain and wind on their magical day, Kelsie and Rob were married at the bridal bridge as planned. It was touch and go for a while. Paul played acoustic guitar with a special request for "I'm Yours" for their recessional.
Photos on the chairlift is a must for a Sugarloaf wedding. Kate Crabtree Photography rocked it!
Their wedding colors were purple and gray. Kelsie asked if we might be able to coordinate and our answer was yes, of course! We were so excited to add a pop of color and coordinate with the wedding party. Lindsay found a purple dress and the guys pulled out their matching gray ties that we just happened to have from years past. It just added one more personal touch to so many special moments of their day.
We were honored to learn and play Kelsie and Rob's "song" Two Is Better Than One, by Boys Like Girls & Taylor Swift for their first dance. Kelsie and her dad danced to a combo of When You Need Me and Old Time Rock N Roll to keep it personalized and very special. Rob and his mom danced to My Wish. With a great mix of Classic Rock, Top 40, 80's, Oldies and a tune from Bare Naked Ladies, everyone had fun, danced and sang along. It was a memorable day for all! Thank you so much for having us!
From Kelsie and Rob: "Thank you for EVERYTHING! The band was amazing, and we have heard nothing but positive comments from our guests on the band, the music, and Lindsay's voice – everyone thought she was incredible. Thank you for learning and playing the songs that meant the most to us, our parents were very surprised and touched when they learned that we had specially requested them, it made the evening that much more special. And a HUGE thank you to Paul for playing at the ceremony. I know the weather was less than ideal, but I think it made it even that much more romantic and it made me so happy."Thank you
Kate Crabtree Photography
for the images to share. We always love working with you! For more images from Kelsie and Rob's wedding, see her blog post
here
.