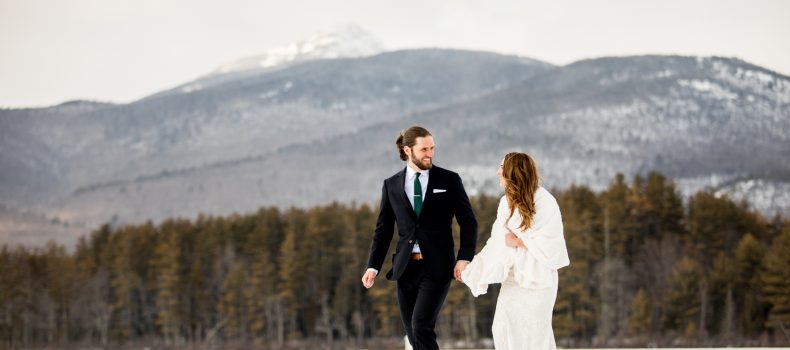 Winter Weddings in New Hampshire
Winter weddings in New Hampshire are pretty magical, especially in the mountains. Jess and Dave's February wedding on Leap Day 2020 at The Preserve in Chocorua was just as magical as they can get. The weather impacted their outdoor wedding ceremony on the lake but plan b was just as beautiful. Up until the week of the wedding, February had been pretty warm for New England standards which didn't freeze the lake enough so to be safe, the ceremony took place in the cute Sap House. It was a good move and provided shelter from the frigid temperatures that arrived on wedding day.
The ceremony music was difficult to plan due to the winter wedding weather conditions and potential last minute backup plan. For ease of planning, Jess and Dave opted for recorded music in place of acoustic guitar. They chose Cannon in D for the processional and Ain't That Love by Ray Charles for their recessional.
Jess and Dave braved the cold for their enchanting backdrop photos while guests mixed and mingled inside the gorgeous barn full of warmth and charm at The Preserve at Chocorua. Once the party was underway, the couple danced to Hey Pretty Girl by Kip Moore for a choreographed first dance. 111 Maine Catering provided excellent service as always. Photographer is Corey Fitzgerald! Officiant, a close family friend. Florist is unknown.
We asked why they chose a February wedding. Jess told us that they wanted to do February because her parents got married in February and have had a long and successful marriage. Jess and Dave, thank you so much for allowing Wavelength to share your winter wedding day with you. It'll be another 20 something years until we get another leap day on Saturday. Until then, happiest anniversaries to you!