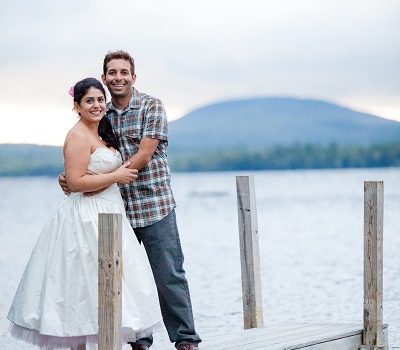 Lakeside Wedding on Toddy Pond
Rinna and Rob were married in Surry, Maine at their favorite camp on Toddy Pond in early September. With a lakeside, casual style including a pig roast and root beer floats, it was just perfect. Pretty cool that Dave Mallet performed for cocktail hour and the first dance.  The weather was great and just as everyone headed inside the tent for dinner and dancing, the rain came down in buckets. No one minded the rain for the dance party was amazing. Rinna and her Dad danced to Over The Rainbow. This crowd liked to dance and enjoyed some Latin music and salsa  during break time which the Diaz family provided for us on an ipod. We were delighted to celebrate with them and what a cute story on how they met. Rinna shared with us that she had dinner at Rob's restaurant, Marigold Kitchen, in Philadelphia and when the server asked how everything was, she said I will marry whoever made this mac and cheese. She married him, true story!
These amazing images were taken by Megan Swann of emilie inc. photography. For more images of this great day, visit emilie inc.'s blog post.
We had a great team, thank you!
Take Off Events
Bianco's Catering
Wallace Tent and Party Rentals