15 Loved Mother-Son Dance Songs
Need help finding that one meaningful song for your special moment to dance with mom at your wedding? These are our top 15 mother and son wedding dance songs that are most requested for wedding receptions. Whether you're looking for the perfect traditional song or current favorite, there is no better time to express the unique bond between the groom and his mom with heart-felt lyrics. We know mom will cherish the moment and shed a few happy tears on the big day. Here you will find a selection of sentimental classics, powerful tear-jerkers, and a little bit of country to appeal to a variety of musical tastes. For more ideas, check out our play list.
My Wish, Rascal Flatts
In My Life, The Beatles
What A Wonderful World, Louis Armstrong
Humble and Kind, Tim McGraw
You'll Be in my Heart, Phil Collins
Forever Young, Bob Dylan
Your Song, Elton John
Simple Man, Lynyrd Skynyrd
You Raise Me Up, Josh Groban
Have I Told You Lately, Van Morrison
I Hope You Dance, LeAnn Womack
How Sweet It Is To Be Loved By You, James Taylor
Stand By Me, Be E King
You Are The Sunshine Of My Life, Stevie Wonder
Kind And Generous, Natalie Merchant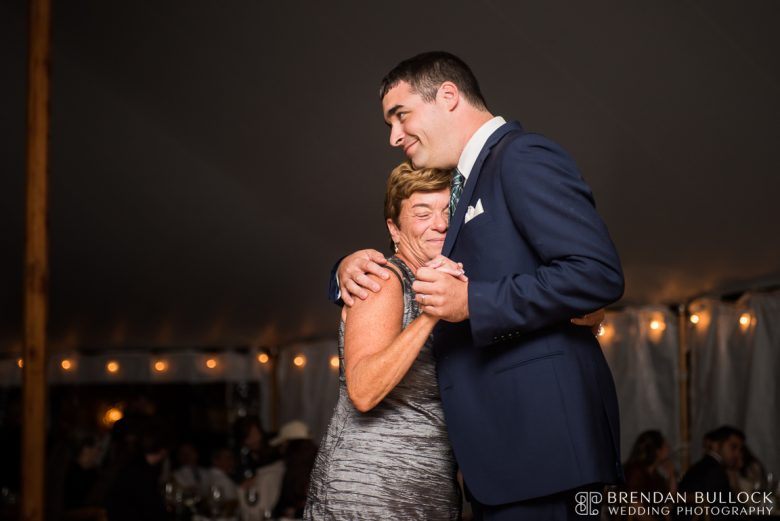 As Mother's Day approaches, we wanted to put together a video with the top 15 picks. We've had the privilege to play for many wonderful mother and son dances and we showcase those most recently here. Our soundtrack, What A Wonderful World, is one of our most requested parent songs played. Take a sentimental journey down memory lane with us. Happy Mother's Day!
Featured image by Brendan Bullock Wedding Photography. Video feature photo by Molly and Victoria Photography All photo credits included.