Bruce And Joe's Portland Wedding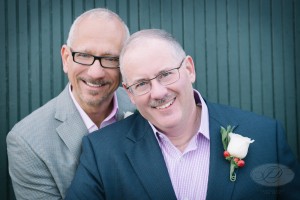 Yay, it's Spring finally! It's time to step forward into a wonderful new season of weddings but first we want to catch up on this amazing wedding from last year.  Bruce and Joe's November wedding was the last of our 2013 weddings. What a privilege it was to get to know Joe and Bruce and celebrate such a special day. They held their ceremony and reception in the Room with a View at the Portland Company. What a wonderful option when you have one space to host a late Fall and Winter wedding.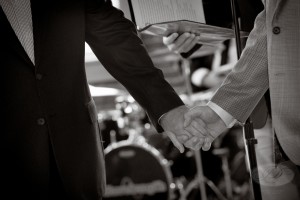 In our years of performing for weddings, we have never played as a full band for a ceremony. How lucky are we to have had the opportunity to share in this amazing day of love? Bruce and Joe exchanged vows among family and friends with their nephew Derek officiating.  Their ceremony included a selection of beautiful songs from Adele, Nora Jones and Bruno Mars which were hand-picked from a list of their favorite artists. Cocktail hour provided a great opportunity to mingle and take family photos while the band played background music. After a buffet dinner was provided by Blue Elephant Catering, the party continued with a great number of favorite dance songs that filled the dance floor. Guests danced to every song from a combination of Motown and 80's all the way to the most popular current hits from the radio. Bruce and Joe's vision became a reality! Photography by Jen Dean Photography.