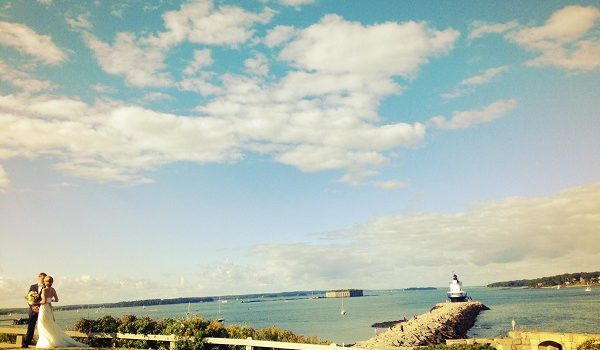 Waterfront Wedding at SMCC
This wedding couldn't have been any more beautiful. With this stunning view, it's no wonder Laura and Kevin choose to have their August wedding at the SMCC Campus. Such a beautiful location for a summer wedding overlooking Spring Point Ledge Light into Portland Harbor. Such a beautiful couple too. Laura and Kevin were busy in school and at work in Boston so when we finally met on their wedding day, it was really special. We started the reception off with an introduction song of Signed, Sealed, Delivered following a choreographed first dance to Etta James' "My Dearest Darling". Following dinner, the dance party started with Paul Simon's Father/Daughter and My Wish with mom and dad before family and friends joined Laura and Kevin on the dance floor for a most memorable night. It was a fun-filled wedding with a wonderful couple to share an amazing celebration with. Thank you for including us in your special day. Congratulations Laura and Kevin!
We are beyond thrilled to have received this lovely email from Laura and Kevin and a review on The Knot:
Thanks to you and the band for making our day so amazing! The energy of the band and quality of the music was beyond our wildest expectations, and our day wouldn't have been nearly as magical without it. And again, we were so happy that the band just rolled with the power outage- it's nice to know that when something inevitably goes wrong, the team can handle it and still make it a fun time no matter what!
Wavelength was amazing! Johnna and the band made everything so easy for us from day 1 and helped make our wedding personal and memorable in every way. The band is so talented their range is extremely broad – from oldies to top 40 and even country. They were handed an electricity issue that arose during the night without guests even knowing. So professional and so fun, we highly recommend them!
Our wonderful team included:
A Family Affair Of Maine
David Zwickerhill Photography
SoPo Catering
Broadturn Farm
One Stop Event Rentals
Two Fat Cats Bakery